Our Story
Dreams Of Greatness was created in Baltimore but made for the World. Everyone deserves to look and feel GREAT no matter their bank account. D.O.G. was founded with that in mind. GREAT quality, at a GREAT price, for GREAT people all around the world. Greatness is a universal term we all seem to struggle with but with DREAMS OF GREATNESS apparel here to help you refocus, there should be nothing that can hold us back. GREATNESS is within us and together our mission is to bring it out.
Dreams Of Greatness Is More Than A Brand.
Every day is a new day to chase your DREAMS. It's up to each and everyone of us to change our mindsets, lifestyle, and overall outlook on life. The only one stopping you from being GREAT is YOU! GREATNESS is achieved in the mind first. The more we focus on GREATNESS and winning the more our subconscious will change. Leading to a better life one day at a time. GREATNESS is not easily achieved, so looking down and seeing D.O.G. on your chest is a great way to refocus and keep getting to it.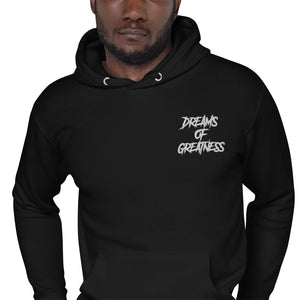 Trust The Process
DREAMS OF GREATNESS is a well-renowned Retail Shop that has continually featured a variety of high-quality and affordable products since day one. Our passion for excellence has driven us from the beginning, and continues to drive us into the future. The team at DREAMS OF GREATNESS knows that every product counts, and strives to make the entire shopping experience GREAT. Check out our store and special offers. Contact us with orders or special requests if you see something you like but may want it in a different color.